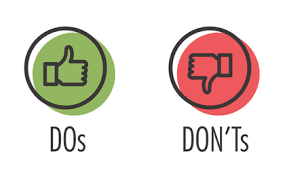 January in Admissions means two things: Exhausted admission counselors reading files, and nervous applicants waiting for a decision. I can't do much about the first one (especially with almost 40,000 applications), but I can try to help with the second one. As such, here are suggestions on what to do and not do from now until we release final decisions. The first group is focused more on the next few months of the UGA process, as many questions cannot be answered at this time or our counselors are tied up reading your file. The second group is broader based concerning Admissions as a whole.
UGA Specific Suggestions (for the next few months)
DO NOT feel the need to call or email us to let us know you are still interested in UGA, love us and that we are your number 1 choice. While it is nice to be loved, it will not change a decision.
DO take the time you would have put into professing your love for us into telling your teachers thank you for all the hard work they have put into this year, especially with so many challenges facing everyone.
DO NOT call or email us if you have been admitted and want to ask about any additional scholarships that might be available, as we are still a long way from finishing the scholarship process and we will be working until April on this situation.
DO celebrate if you have been admitted to UGA, and hopefully enjoy your Georgia socks on these cold days in January.
DO NOT contact us with another college's admission or scholarship offer. We don't admit a student just because another college took that action, and we are not able to "match" another college's scholarships.
DO celebrate the fact that you have already been admitted to other colleges and maybe have strong funding from these institutions! Congratulations.
DO NOT feel the need to contact us about the timeline of our decisions and if we can speed it up just for you or your child.
DO take the time to understand that we would speed things up if we could, but we would rather take our time making good decisions instead of rushing them.
Overall Admissions Suggestions
DO NOT take admissions advice from "chance me" sites, neighbors, or other individuals who do not have a working background in college admissions.
DO look at the data from different colleges on their accepted students and try to get an understanding of their process and what things they value in a decision.
DO NOT apply to only one college, or think that X college is the only one for you.
DO look at a wide range of college options, and keep your mind open to different opportunities.
DO NOT look at college as the future "best times in your life". Your college time will be wonderful, but it will also be tough, it will be exhausting, and ultimately it will be worth it.
DO look at college as a chance to grow, to learn, to challenge yourself, and to see a wide range of opportunities. As well, DO see this as a chance to interact with people from a wide range of backgrounds, cultures and points of view.
DO NOT join clubs, sports or activities just to boost your resume for a college. We read a lot of files and can generally see through the fluff.
DO find things that you enjoy and dive deeply into them in HS. As well, if you are going to volunteer/give back, start local. Give assistance to your neighbors, your local community, and if needed, your family (many students have to help with siblings, grandparents, or their family business).
Good luck out there, and Go Dawgs!