This May, my daughter Amelia (rising junior majoring in International Affairs and Political Science and applying for the Double Dawgs program in Public Administration) participated in a month long Study Abroad program in Stellenbosch, South Africa. She was able to learn more about the political systems in Africa, and as well get an understanding of the social issues in post-apartheid South Africa. Study Abroad is a very different experience for the student and parent, so here is a look at that balance. (AG is Amelia, while DG is me).
Favorite part of the study abroad experience?
AG) I really enjoyed the service learning aspect when working with 8th graders in Kayamandi township at Makapula High School. I was able to get very close to four of the students, and to get to see what they are learning in school. The student's humorous nature and getting to dance with them (two of the students were on the school dance team) were a highlight of my day. This particular study abroad program allowed our group to become immersed in the culture of a South African township and to understand the issues facing these students. This was very different from being a student/tourist going abroad.
DG) If I say it got her out of the house for another month, I would get in trouble, so it is definitely not that! Really though, we were excited that Amelia was going to see more of the world, and get a deep dive into another culture. As Mark Twain said, "Travel is fatal to prejudice, bigotry, and narrow-mindedness, and many of our people need it sorely on these accounts. Broad, wholesome, charitable views of men and things cannot be acquired by vegetating in one little corner of the earth all one's lifetime."
Scariest part of the experience?
AG) The scariest part of the trip was taking part in the Victoria Falls Gorge Swing. This is a massive two person tandem swing that is next to Victoria Falls, and it has a 70 meter drop down into the gorge to start the swing. I went with Molly P., a UGA student who I met on the trip and became good friends over the course of the study abroad experience. Both of us were somewhat afraid of heights, so taking this plunge was a step. Overall, the experience, along with the beauty of Victoria Falls, was worth the initial fear.
DG) When your child is 8,094 miles from you, everything is a little scary. Is she sick, is she eating right, is she studying, etc. We knew this was a great program put on by UGA, but there were still worries in the back of your mind. But after a few days, the worries went away and we were more jealous of her opportunities. Of course, I did not know about her walking with lions and feeding elephants until after the fact, so my nerves were saved on that day.
What was your biggest learning moment?
AG) My biggest learning experience was understanding the difference in normative vs. positive development. Our group learned that you should not go into a new location thinking you have all the answers or believing you can solve all the issues based on your prior experience. Instead, you should listen to what the people's ideas and needs truly are, and then go from there in trying to give assistance. Too many times, volunteers rush in and think their "Western world point of view" can solve any problem, and don't take the time to actually learn what is actually needed. Dr. Crepaz and Dr. Finlay were wonderful leaders, who guided us with our understanding of the country but also had a "hands off" approach to allow us to experience the culture and country on our own.
DG) The biggest parental learning moment was that our youngest child could handle things herself, and she was doing okay (actually great) without us. I think this taught her a great deal about handling things without us as a resource, and she will do great things when she graduates from UGA.
Your suggestions for others?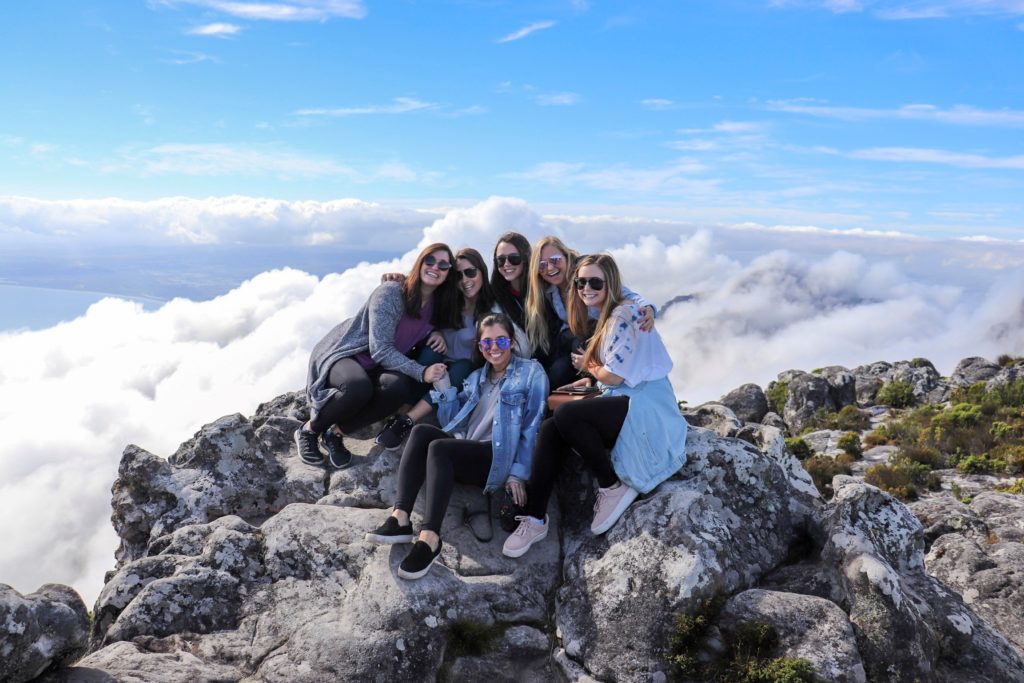 AG) If given the opportunity, students should definitely take advantage of a study abroad experience. It opens your eyes to so many different cultures and viewpoints of other people, and helps to make you more knowledgeable about the world as a whole.
DG) For parents, college is the time where you start to let go and allow your student to take on more responsibility. Study Abroad programs are a good stepping stone in that process, as it allows your student to learn more about themselves and others from a global point of view.
A big thanks to UGA's Office of Global Engagement, Dr. Crepaz and Dr. Finlay for a great experience!
Go Dawgs!