Here is a quick update straight from the Orientation Website: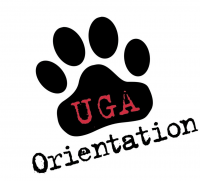 First-year Summer Term & all Transfer Orientation Registration is now available. First-year Fall Term Orientation Registration will be available on the afternoon of May 9, 2011.
If you have questions about orientation, the best thing to do is review the orientation website, and then contact orientation with any further issues. Please remember that if you sign up for orientation, you will be charged the fee (to your student account) no matter if you attend orientation (or UGA) or not. You are reserving a place at an orientation, similar to a ticket at an event, and thus another person cannot attend that session. Please only sign up for orientation after you are sure you will be attending UGA.
Go Dawgs!