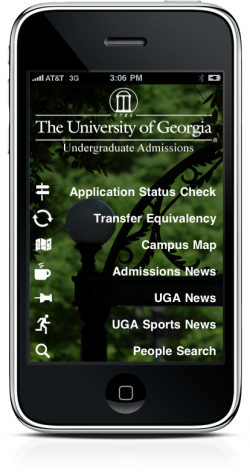 The University of Georgia Office of Undergraduate Admissions is proud to announce the release of version 1.0 of our iPhone App. This application can be downloaded for free from iTunes, and will run on any iPhone or iPod Touch.
The App was developed by the UGA Admissions office's own technology team (way to go Bryan!), and allows users to access the Status Check, the UGA Transfer Equivalency database, Admissions News, UGA News, Campus Maps, UGA Sports News, and UGA People Search.
To download the University Admissions iPhone App, just search for "UGA Admissions" in the iTunes App Store, or in the App Store utility on your Apple mobile device. We also hope to add a GPS based campus tour sometime within the next year.