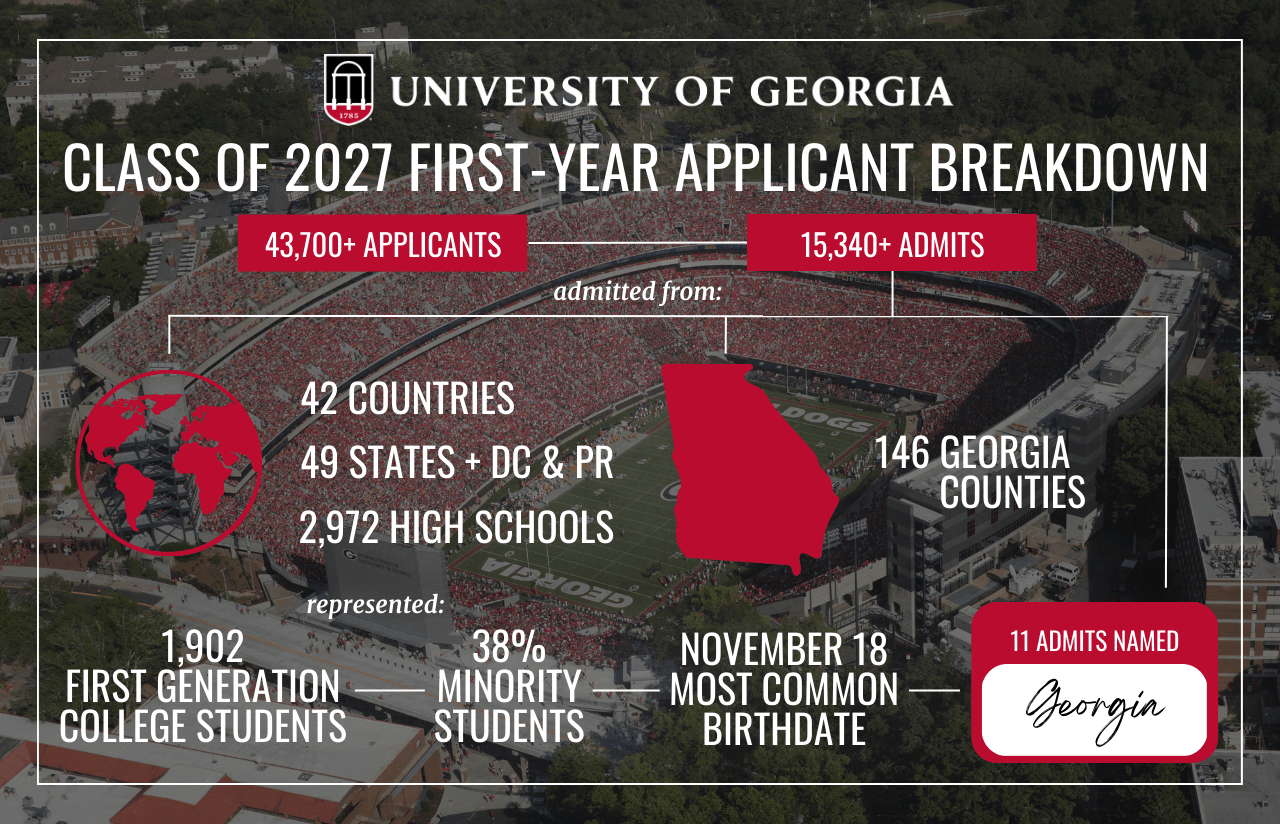 We plan to make the final wave of freshman decisions available today, March 17th, at 4 PM EST. For those of you who have been admitted to UGA, here is a post for you and a chance to comment.  Please remember that this is not a blog where you should post statistics or throw fellow students under the bus. These types of comments will be deleted.
Congratulations to all of the freshman who were admitted and we look forward to you becoming part of the Bulldog Nation.  The next steps for a new student can be seen in the flyer in your admission packet, so please go ahead and review what you need to do next.  In addition, there will be a great deal of information you can access off of your Status page.  When you have the time, please review this, as there is key information in the Next Step materials.  Please remember a small number of students will be admitted to start in January 2024.  You will find specific information on your Status page and in your admissions packet, and it is stated very clearly so there is no confusion.
Here are some rough statistics on the Entire Freshman Admitted Class for 2023 – November, February and March waves, where we have admitted 15,340+ students total, which is somewhat below last year's offers of admission (I do not have separate data on just the final March group, sorry):
Total Applicants:  15,340+ Accepted for Fall out of roughly 43,700+ total applicants.
UGA is the flagship institution for the state of Georgia, and as such our goal is to enroll a class that is roughly 80% Georgians. This is an enrollment number, not an admission offer number, but it does mean that our admission offers are more heavily Georgian than non Georgian. Please remember that admitted student information is different from enrolled student information, as we know that a much larger percentage of Georgians will accept our offer than non-Georgians due to cost, distance, etc.
I will not break down the academic data into GA/non-GA accepted students, because overall the academic information is very similar, with the only difference of note being that test scores are somewhat higher for non-GA accepted students.
UGA Calculated Grade Point Average mid-range/average:  4.06 – 4.33, with a 4.19 average
Please remember this is not the GPA students see on their high school transcript, but rather the GPA that UGA recalculates for everyone based on the core academic courses taken in high school and looking at the actual grades posted on the transcripts. Roughly 91% of the HS core grades were A's, and 8+% were B's, thus showing the academic strength of the accepted group.
AP/IB/Dual Enrollment course mid-range/average: 8-13 courses, average of 10+
We determine academic rigor based on all core classes a student has taken (CP, Honors, Advanced, AP, IB, DE, etc.) as compared to what is offered in the school/community. This is not based simply on the number of AP/IB/DE courses, but instead we look at the overall coursework over four years in the core areas and the progression of rigor over the years. The AP/IB/DE information is the most specific data I can give on it, but the numbers do not cover all of our curriculum review.
SAT Total mid-range for students: 1270-1470
This data is based on admitted students where the SAT was the strongest score if both SAT and ACT were submitted or if the SAT was the only test taken and sent.
ACT Composite mid-range for students:  29-34
Remember, UGA focuses on ACT E and M. For reporting purposes, we give out the best score overall ACT score, but the ACT E and M are very similar to the overall score.
This data is based on admitted students where the ACT was the strongest score if both SAT and ACT were submitted or if the ACT was the only test taken and sent.
For the 2023 class, the biggest academic factors were still a student's grades and course rigor, as these are the best indicators of future success in the UGA classroom. While almost all of our decisions are made without taking residency into consideration, we do have a small group of students in this final decision group where we did use GA residency as a part of the review.
For the small group of Spring 2024 admits, this decision is final. We are not able to change students to Fall and we are not able to consider them as Wait List students. An email will go out explaining the Spring offer in more detail.
The Housing and myID pages may need a few business days before your information will be available.  Please be patient with these sites. I am guessing you will not be able to sign up for Housing until at least Monday. In addition, the Office of Student Financial Aid plans on sending out Estimated Offer Letters to newly admitted students next week.
A majority of our scholarships will also go out today, and we will finish the scholarship awarding process in late March/early April. When we are done with our scholarship awarding, we will communicate by email that the process is done. During our final scholarship reviews and awards, we will be offering scholarships to a wide range of students who have been admitted during any of our decision dates (November, February or March). In addition, the Honors website has indicated that the final group of Honors decisions will go out in early April. 
You have until May 1 to submit a commitment deposit in order to hold a spot in our freshman class.  We hope the next stage of the admission process is a little less nerve wracking than the decision process.  As you celebrate, make sure to be considerate of others in your school who may not have been admitted.
Good luck in the next stage of the college admissions process.  Go Dawgs!