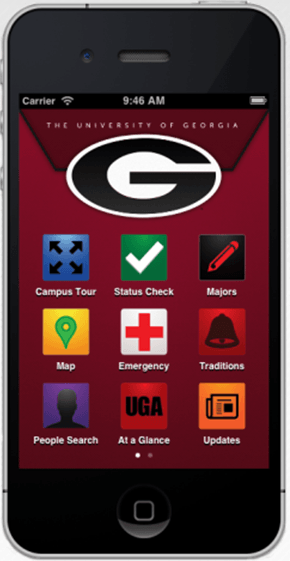 An updated version of our Admissions iPhone App has been released, available for download on any iPhone or iPod Touch for free from iTunes. This updated version has many new features including:
At a Glance: Browse the high points of the University, its students, faculty, alumnus and athletics.
Campus Tour: Explore the University of Georgia's historic North Campus on campus or right from your couch! On campus, your GPS enabled iPhone will detect your location on North Campus giving you information regarding your location. Get to know UGA's beautiful North Campus before you visit! (iOS 5 or higher is required for the tour)
Majors: Still deciding on a major? The Majors tool provides an easy to use reference to all majors available at UGA.
Info Request: Want information about the University and Admissions? Provide us with your contact details and we'll keep you in the loop on Admissions news and events.
Timelines: A quick reference on important dates regarding your application.
Traditions: Learn about UGA traditions such as the ringing of the Chapel bell, the Arch and our tenacious sports fans with the Traditions feature.
Orientation: Headed to Orientation? Have access to the full schedule, learn UGA Lingo and meet the OL's. You can even make sure you've done everything needed prior to arriving with the to-do list!
Status Check: While this feature isn't new, it is a very important tool that can help you make sure you have submitted everything we need. This is also the first place you will see your admissions decision.
Download the Admissions App today!
Go Dawgs!