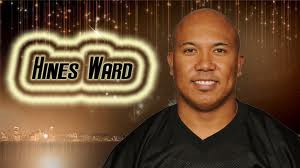 While this is for the most part an Admissions blog for the University of Georgia, I would be remiss if I did not mention the latest Dancing with the Stars winner and UGA Graduate, Hines Ward! While I am not a fan of DWTS (although my wife is), I have been drawn to this year's show due to the participation of Hines Ward. Ward was a great football player at UGA in the mid-1990's, but he has an even more remarkable personal story.
As a Korean/African-American student raised by a single mother who at first spoke little English and worked three jobs to support her family, he dealt with prejudice family turmoil. He then attended UGA, where he gave it his all by playing three different positions under two different coaching staffs. After UGA (and his college degree!), he signed with the Pittsburgh Steelers, and is now in his 15th year with the team. Throughout his professional career he has garnered numerous honors and awards (Super Bowl MVP, 4 time pro-bowl selection, most catches and receiving yards by a Steeler, etc.), and is a leader on and off the field. In 2006, he created the Hines Ward Helping Hands Foundation, which benefits multi-racial children in South Korea, and in 2010 he was named as a member of the President's Advisory Commission on Asian Americans and Pacific Islanders. And last night, he was named the winner of the 2011 Dancing with Stars Competition!
Congratulations to Hines Ward, a great person and a wonderful UGA Alumnus!
Go Dawgs!