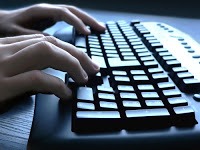 We have now opened up the Summer/Fall 2012 Freshman Application! As I have stated in previous posts, this does not mean you should stop whatever you are doing and submit the application as quickly as possible. Please do not do this! Instead, make sure that you have all the information you will need prior to submitting your application, such as verifying your SSN, having a copy of your transcript and a resume so that you can complete all of the information needed without errors or gaps. A majority of students who apply right after we open up the application then end up contacting our office to fix mistakes they made by rushing through the application. Here are a few items you want to make sure you complete correctly:
Make sure you have put your name in correctly. Your name called/nickname should only list "Bob", not Bob James Smith, your SSN NEEDS to be correct for our office and financial aid, and your address needs to be right for both mailing information to you and for Residency purposes.
If you are a citizen of the United States, mark citizen. A Permanent Resident is a person with an Alien Registration Card/Green Card, not anyone who lives permanently in the U.S.
When listing your high school, do the search process so that your high school's code will drop in correctly and will not slow down us importing the application. In addition, if you have attended multiple high schools, list your current one first.
Please list your senior year courses in the area provided, and you can shorthand course names/titles. This helps us in our review of your file.
Your HS counselor can only complete the online HS Evaluation form once you submit your application (so please do not wait until the last minute!), and you will be asked to give your counselor's email to alert them that you have applied. They will also be able to see this on the UGA HS Counselor Portal, and we will keep the online HS evaluation form open for about a week after the deadline.
The SAT/ACT/AP score area on the application is for our general knowledge about you, but we need the official scores to be sent to us.
The deadline for Early Action for the SAT/ACT is to take the exam by the Early Action deadline of October 15, and to request the score by October 15.
If you have any conduct or conviction issues, please be specific about the situation. As well, we do not need to know about minor traffic tickets, if you had ISS in middle school, etc.
In the Activities sections, please do not leave this blank thinking that we will never look at it. This area is important in scholarship review, when we are in our holistic review process, if we need to know more about you, etc.
Read the self-reported grades description in detail before completing this section. We are looking at your core course grades from 9th grade on, as well as how many of the grades you list are from AP/IB courses, and how many total AP/IB courses you will have completed by your HS graduation.
Do not hit the submit button unless you are sure that you (and your parents!) are ready to submit the application!
Remember that the online credit card payment option is only available from 7 am – 9:30 pm EST
UGA only has an online application, so we do not accept any paper applications that are submitted.
Do not fax our office any updates, corrections, etc. We do not like faxes!
Remember that there is no admissions advantage to submitting your application on the first day it goes live. UGA will look at you the same way as any other student who applies by the deadline, so being the first application in does not give you any bonus points. While I do not suggest waiting until the week of the deadline to apply (too many risks of problems/errors), I suggest you take your time completing the application and making sure all the information is correct before submitting it.
Go Dawgs!